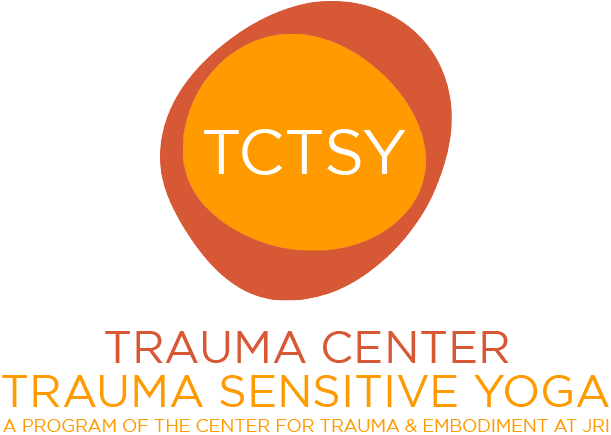 ---
TCTSY, a program of the Center for Trauma and Embodiment at JRI, is an evidence-based, adjunctive treatment for complex trauma and complex Post-traumatic Stress Disorder. Developed in the United States, TCTSY is shared with children, youth, and adults around the world. TCTSY is equally accessible to all people regardless of age, gender identity, race, ethnicity, body type and physical ability.
Please email classes@traumasensitiveyoga.com if you are interested in learning more or would like to complete a brief intake and receive login information.
---
Weekly Class Schedule (all classes are TCTSY/Trauma Sensitive Yoga and in EST):
(all participants are welcome in these sessions, regardless of gender identity)
Monday

Tuesday

Wednesday

Thursday

Friday

Saturday

12pm-1pm
Chair Based with Amy

6pm-7pm
Slow with Laura

12pm-1pm
Slow with Amy

6pm-7pm
Moderate with Jenn

6pm-7pm
TCTSY en español con Liliana

No Classes

10am-11am
Moderate with Ren

*Though all sessions are mat based unless otherwise specified, participants are still welcome to join from an elevated surface or from seated as well.
Chair Practice:
In this 60 minute session, movements are offered from a chair or other elevated surface at a slower pace.  Though it is chair based, participants are welcome to join from a mat or standing.
Slow:
In this 60 minute session, movements are offered at a slower pace and the session remains close to the ground for the majority of the practice.
Slow to Moderate:
In this 60 minute session, movements are offered at a slow to moderate pace with the option to move towards standing forms during the middle portion of the practice. 
Moderate:
In this 60 minute session, movements are offered at a more moderate pace with movement towards standing and balancing forms during the middle portion of the practice.
It is recommended that participants are in ongoing therapy or have another outside support network.  
---
Meet the Instructors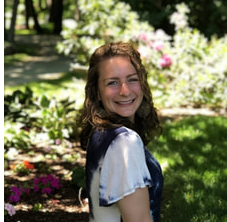 Angelica Emery-Fertitta, LICSW, TCTSY-F, RYT-500
Massachusetts & Rhode Island
Pronouns: she/they
Angelica is dedicated to bringing accessible movement experiences to individuals of all ages and backgrounds who have experienced trauma. She strongly believes in the importance of inclusion of the body in the process of healing and growth.  Angelica has experience facilitating for both youth and adults, in groups and individual sessions. When she is not working with the Center for Trauma and Embodiment, she partners with young people, families and systems to work towards wellness, healing and the transformation of interpersonal and systemic trauma.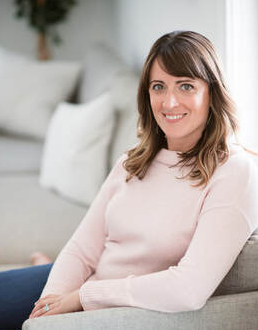 Jennifer Turner, LMHC, RYT, TCTSY-F
Co-Director, The Center for Trauma and Embodiment at JRI
Pronouns: she/her/hers
Jenn has had the honor of working with survivors of trauma for all of her career. Along with working in private practice as a trauma-informed therapist, Jenn is the Co-Director of the Center for Trauma and Embodiment where she works to oversee training and supports the development of body-first interventions for healing from trauma. Jenn also leads trainings in Trauma Center Trauma Sensitive Yoga (TCTSY) throughout the U.S, provides consultation to organizations on how to become more trauma informed at all levels. Jenn cofounded the Center for Trauma and Embodiment at JRI in 2018.

Emily Lapolice, LICSW, RYT, TCTSY-F
Arlington, MA
Pronouns: she, her, hers
Emily Lapolice is a Licensed Independent Clinical Social Worker (LICSW) and Trauma Center Trauma Sensitive Yoga-Facilitator (TCTSY-F) in private practice in Arlington, MA who specializes in Complex Trauma and perinatal mental health.  She received her MSW from New York University in 2006, and has worked in day-treatment, inpatient, school-based, and out-patient mental health settings in both New York City and Boston for the past fourteen years. Emily is a 200-hour Registered Yoga Teacher (RYT), certified in both children's and prenatal yoga, and is a member of the training and supervisory faculty at the Center for Trauma and Embodiment at Justice Resource Institute in Boston, MA.  She is currently working on projects to bring more awareness and evidenced based research to the field of perinatal mental health and trauma. Emily is also a writer and a mother to two young boys.
Liliana Torres-Bonilla, LMHC, TCTSYF, E-RYT 500
Massachusetts + Puerto Rico
I'm a licensed psychotherapist in Massachusetts and Puerto Rico, with more than 15 years of experience working with BIPOC, survivors of complex trauma. With my background in performing arts, dance and yoga I understand the great benefits of integrating Mind- Body Therapy. I facilitate therapy sessions integrating evidence based interventions that helps restore connection to the body in a safe way to support personal wellness and healing.
Psicoterapeuta licenciada en Massachusetts y Puerto Rico, con más de 15 años de experiencia trabajando con sobrevivientes de trauma. Con mi experiencia en artes escénicas, danza y yoga, entiendo los grandes beneficios de integrar la Terapia Mente-Cuerpo. Facilito sesiones de terapia que integran intervenciones basadas en evidencia que ayudan a restablecer la conexión con el cuerpo de una manera segura para apoyar el bienestar personal.
Laura Chritton • TCTSY-F, RYT
Portland, ME
Pronouns: she/her/hers
Laura Chritton has been practicing yoga and other forms of movement for much of her life and is grateful to be a part of the TCTSY community. She completed her 300hr TCTSY-Facilitator certification training in 2022 and is currently offering individual and small group sessions via Zoom.  Laura's varied background is in opera performance, voice instruction, water fitness & aquatic personal training, human resources, addiction recovery coaching and now TCTSY practice and facilitation. These engagements share the common theme of inviting individuals perhaps towards their own choice and power, possibly wisdom and strength.  Welcome to your practice. 
Morgan Butz, TCTSY-F, E-RYT 500
Carlisle, PA
Morgan is a Trauma Center Trauma Sensitive Yoga-Facilitator and current student nurse, who is continually enlivened by a calling to serve others through a dynamic approach of uniting science and spirituality, intellect, compassion, and authentic communication. Morgan works alongside youth, adults, and elderly folks by facilitating embodiment practices as an offering for individuals to potentially reconnect with empowerment, choice, and well-being. Likewise, she is honored to be present for others as they integrate forms of therapy which are most useful for their unique experience into daily life. Morgan hopes to harmonize her facilitation experience with her upcoming nursing career in Women and Babies specialty care units, NICU's, research centers, as well as within environments specializing in behavioral and mental health holistic practices for individuals, families, and communities.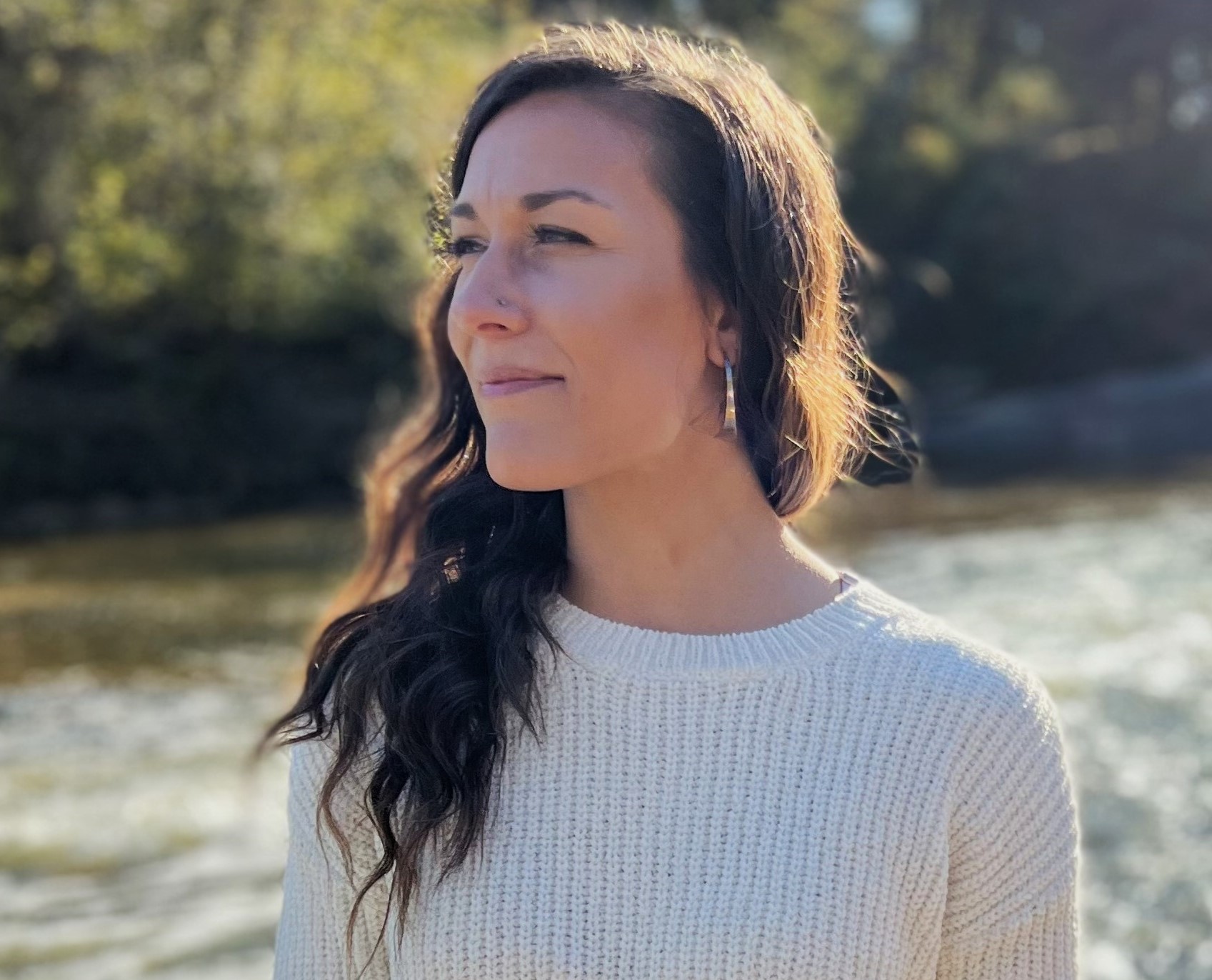 Amy Westberg, TCTSY-F
Clinton, South Carolina
Amy Westberg (she/her) is rooted in the land of the Nimiipuu people and daughter of third generation Swedish immigrants. She has dedicated her life to offering trauma care services to residential treatment facilities, domestic violence centers, wilderness therapy programs, universities, and other local non-profits. Her work is grounded in maintaining a quality of presence for individuals to develop the capacity to be fully present in their body. Currently Amy is a Certified TCTSY Facilitator for the Center for Trauma and Embodiment at the Justice Resource Institute in Boston. She maintains good standing through monthly training with the leadership team. Amy facilitates TCTSY small group classes and individual sessions through her private practice, Unearth, and various agency partnerships. She also delivers professional training to organizations seeking to build healthy cultures and become trauma informed. When Amy is not working, she can be found hiking the blue ridge mountains, kayaking local lakes, or sitting around a bonfire.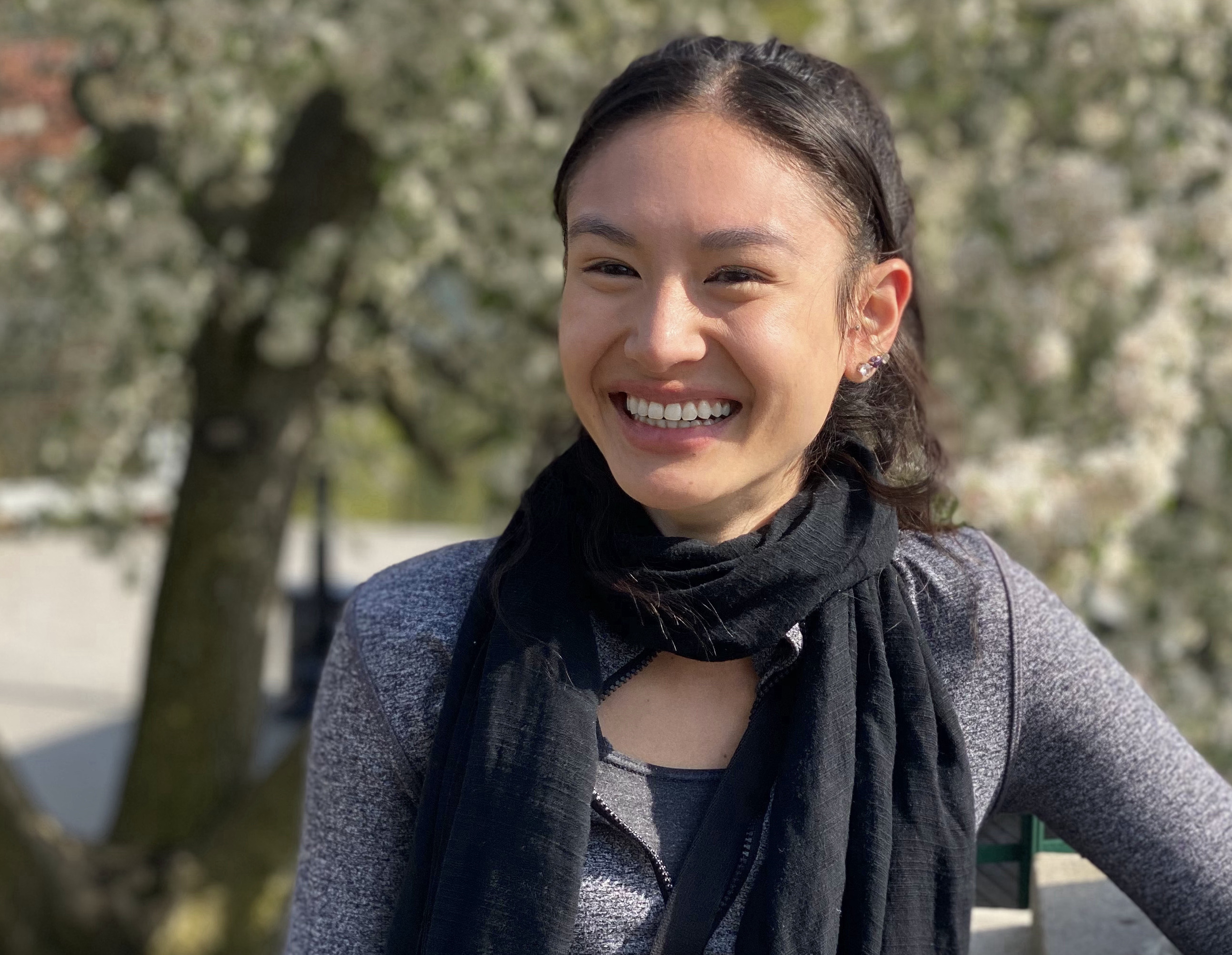 Ren Koa, TCTSY-F, RYT-500
she/her
Ren Koa has eight years of experience facilitating yoga in various clinical and non-clinical settings including hospitals, retreat centers, public schools, universities, rehabilitation facilities, women's shelters, and local non-profit organizations. She is privileged to be able to do the work of warmly accompanying people in a supportive role as they explore post-traumatic healing and growth. Life is challenging, and can be deeply lonely, and many people do not receive the empathy, compassion, and support they need and deserve. Ren strongly believes in centering and honoring your agency, and considers it an honor to be able to facilitate TCTSY with survivors of trauma on their journey to embodied healing and recovery.
---
Payment
Please consider offering payment as you do during in-person classes. This helps support the process to make sure sessions can be offered in an ongoing way. If the amount you are able to offer has changed, please feel free to contribute what is currently feasible for you. As always, we do not want finances to prevent participation.
You are welcome to pay for multiple sessions at one time if that makes more sense for you and your circumstances. 
Please pay via Paypal.
If you prefer to pay via check, please make the check payable to JRI (Justice Resource Institute), place a note in the memo that it is for CFTE (which is the Center for Trauma & Embodiment) and mail to:
Attn: Kim Dennis
160 Gould Street, Suite 300
Needham MA 02494
Supplies
If you do not have access to a mat, you are welcome to practice on the ground or on a blanket or towel. If you would like additional support from props, feel free to use blankets or towels. If you normally use blocks, you are welcome to use a stack of books or a box of cereal.
Feedback
We always welcome feedback and are open to adapting to meet the needs of participants. Please feel free to provide feedback to the facilitator at the end of class. If you prefer to offer feedback in written form, you are welcome to email Angelica at: aemeryfertitta@jri.org.
Frequently Asked Questions
What is the process for joining these sessions? ¿Cuál es el proceso para participar en las sesiones?

You are welcome to send an email to Angelica (aemeryfertitta@jri.org). Angelica will respond as soon as she is able to with more details on scheduling an intake call. The intake call will be with either Angelica or an Intern with the program. We will offer dates and times to find something mutually agreeable. After the short call, you will receive a welcome packet as well as a consent form. Once you have signed the consent form you are welcome to join whenever you would like to. We ask for your preferred email address and will send email updates should there be a cancellation or change to the schedule.

Si deseas participar de las sesiones, puedes enviar un correo electrónico a Angelica (aemeryfertitta@jri.org). Angélica te responderá tan pronto esté disponible y te ofrecerá detalles, a fin de programar una llamada de admisión. Dicha llamada de admisión tendrá lugar con Angélica o con otro personal del programa, en fechas y horarios que seleccionemos en acuerdo contigo. Después de esta breve llamada, recibirás un "Paquete de Bienvenida" y un formulario de "Consentimiento'. Una vez hayas firmado el formulario de "Consentimiento", puedes unirte a las sesiones cuando desees. Solicitaremos tu correo electrónico preferido y te enviaremos actualizaciones por ese medio en caso de que haya una cancelación de la sesión o un cambio en el horario.

I am a therapist, how can I refer a client? 

You are welcome to share Angelica's email (aemeryfertitta@jri.org) and the client could reach out (mentioning your referral). From there, we could go ahead and schedule the 10-minute intake call required to get going. During this call, I would be happy to answer any questions. After this call, I send out the login info and a consent form. Once the client completes the consent form, they can feel free to join once or many times as they choose. 

How much does each session cost? Can I join if I am not able to contribute financially? ¿Cuánto cuesta cada sesión? ¿Puedo participar si no me es posible contribuir económicamente?

The sessions are donation based with a 12/per session suggested donation. That being said, we welcome any amount on a sliding scale of contribution as we recognize access to resources is not equitably distributed and we never want finances to be prohibitive of joining. So, folks are welcome to join whether or not they can contribute financially. 

Las sesiones están basadas en donativos, con una donación sugerida de $12 por cada sesión. No obstante, reconocemos que el acceso a los recursos no se distribuye equitativamente y deseamos que nunca las finanzas impidan tu participación en las sesiones. Por tanto, agradecemos cualquier cantidad que puedas aportar en una escala de contribución flexible. Las personas son bienvenidas a unirse tanto si pueden contribuir financieramente, como si no pueden hacerlo.

Are these all online? Do I need to turn my camera on? ¿Todas las sesiones son virtuales o en línea? ¿Necesito encender mi cámara?

The sessions are currently offered online via the zoom platform. We ask that during the session, you practice with your cameraoff. If you are hoping to connect, we offer time before the session begins and/or right after the session ends to turn your camera on, unmute and connect for a couple of minutes (this is entirely optional).

Actualmente, las sesiones se ofrecen en línea, a través de la plataforma Zoom. Solicitamos que, durante la sesión, practiques con tu cámara apagada. A la vez, ofrecemos tiempo antes de iniciar la sesión y/o justo después de finalizar la misma para encender tu cámara, activar tu micrófono y conectar durante un par de minutos (siendo esto completamente opcional).

Is there talking/processing or is it just movement? ¿En las sesiones hay algún componente de narrativa/ procesamiento o hay solamente movimientos?

There is not a processing component to these sessions, which is why we ask that folks have another support system in place when joining. The session is 1 hour of movement with about 5 minutes at the end for questions, feedback and/or connection.

En las sesiones no hay un componente de narrativa/procesamiento. Por este motivo, les solicitamos a lxs participantes que se mantengan enlazadxs con otro sistema de apoyo al unirse a las sesiones. La sesión se compone de 1 hora de movimiento, con 5 minutos al final para preguntas, comentarios y/o conectar grupalmente.

Do I have to stay for the whole session or can I come and go? ¿Tengo que quedarme conectadx toda la sesión o puedo entrar y salir?

No, If you need or want to leave at any point, you are welcome to exit the meeting. You are also welcome to leave the meeting open and mute the sound or step into another room if you would like the option to return later in the practice. 

No tienes que quedarte conectadx toda la sesión. Si necesitas o deseas salir en algún momento, puedes hacerlo. También puedes dejar la sesión abierta y silenciar el micrófono, o cambiarte a otra habitación si deseas tener la opción de regresar más tarde a la práctica.

I am a therapist and a survivor, can I join too?

Yes, we recognize that people hold multiple identities and have many folks join who carry both a "provider" and a survivor identity.

I live in a different time zone/region of the world, can I join too? Si vivo en una zona horaria/región diferente del mundo, ¿puedo conectarme a las sesiones?

Yes, although these sessions are offered in EST. We welcome folks to join from anywhere in the world. If the timing does not work for you or you are interested in finding a facilitator who is local to you, feel free to explore our list of facilitators: https://www.traumasensitiveyoga.com/facilitators

Sí, aunque estas sesiones se ofrecen en hora estándar del este (EST), invitamos a las personas a conectarse desde cualquier parte del mundo. Si el horario no funciona para ti o si estás interesadx en encontrar facilitadrxs en tu área, siéntete libre de explorar nuestra lista de facilitadorxs: https://www.traumasensitivoyoga.com/facilitators

What are some of the major differences between Trauma Sensitive Yoga and the yoga offered at the studio near me? ¿Cuáles son algunas de las principales diferencias entre Yoga Sensible a Trauma y el yoga que se ofrece en centros/estudios cerca de mí?

TCTSY is an empirically validated, clinical intervention for complex trauma or chronic, treatment-resistant post-traumatic stress disorder (PTSD). You may notice that cues are offered invitationally and you will be offered choices within and between forms. Although TCTSY uses hatha style yoga forms, the emphasis is not on the external expression or appearance (i.e. doing it"right"), or receiving the approval of an external authority. Rather, the focus is on the internal experience of the participant. With our approach, the power resides within the individual, not the TCTSY facilitator (TCTSY-F). Further, by focusing on the felt sense of the body to inform choice-making, TCTSY allows participants to restore their connection of mind and body and cultivate a sense of agency that is often compromised as a result of trauma. If you are interested in learning more, feel free to check out our resources page: https://www.traumasensitiveyoga.com/resources

Yoga Sensible a Trauma (TCTSY, por sus siglas en inglés) es una intervención clínica validada empíricamente para el trauma complejo o el trastorno de estrés postraumático (TEPT) crónico, resistente al tratamiento. Durante la práctica, podrás notar que se ofrecen invitaciones para realizar los movimientos y opciones dentro y entre las formas. Yoga Sensible a Trauma (TCTSY, por sus siglas en inglés) usa formas del Hatha Yoga. Sin embargo, a diferencia de este, no enfatiza en la apariencia o expresión externa de la forma (es decir, en hacerla "bien" o "correctamente"), ni tampoco busca la aprobación de una autoridad externa. Más bien, el enfoque de la práctica se dirige hacia la experiencia interna de la persona participante. Bajo nuestro acercamiento, el poder reside en el individuo, no en le facilitadorx de Yoga Sensible a Trauma (TCTSY-F). Además, Yoga Sensible a Trauma (TCTSY, por sus siglas en inglés), dirige la atención hacia las sensaciones del cuerpo, a fin de que estas informen la toma de decisiones. Esto favorece en las personas participantes la restauración de la conexión entre su mente y su cuerpo; a la vez que cultiva el sentido de agencia, el cual a menudo se ve comprometido como resultado del trauma. Si estás interesadx en aprender más, siéntete libre de verificar nuestros recursos en la página: https://www.traumasensitiveyoga.com/resources

I have more questions or feedback, who can I reach out to? Tengo más preguntas o comentarios, ¿a quién puedo contactar?

You are welcome to send an email to Angelica (aemeryfertitta@jri.org). We are happy to respond to inquiries as well as feedback (both positive and constructive!).

Te invitamos a enviar un correo correo electrónico a Angelica (aemeryfertitta@jri.org). Estaremos encantadxs de responder a tus consultas, así como a tus comentarios (¡tanto positivos como constructivos!).
---
Accessing Zoom
We will be utilizing the Zoom application for our online sessions. This is a free application that can be accessed via computer, tablet or mobile phone. If you would like assistance utilizing the Zoom application, please feel free to watch this video or access the zoom help site:
---