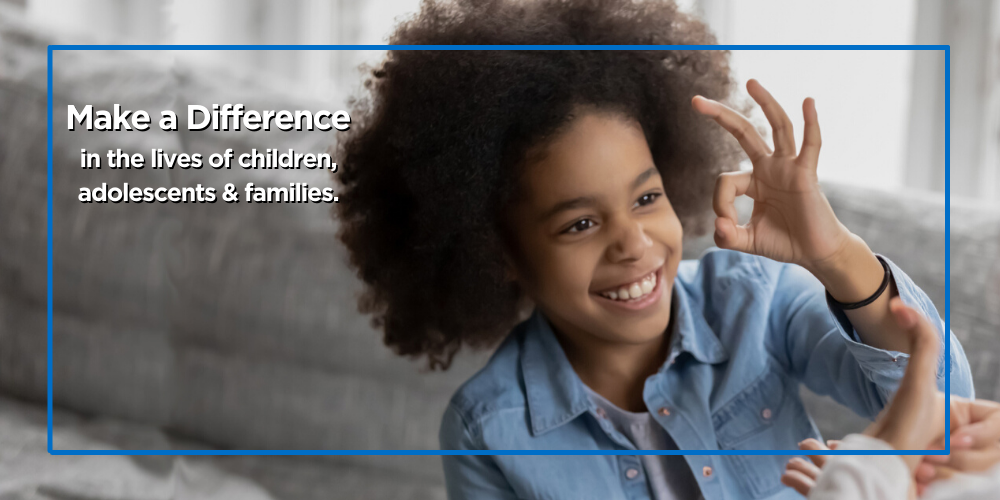 All full-time new hires will receive a sign-on bonus!


A career at JRI is a very rewarding experience.  You can see first hand the difference you make in someone's life.
At JRI, we provide care and support services to children, adolescents and adults with physical, emotional and learning disabilities. The work is challenging, yet rewarding, and our 2,800 staff members are known as some of the most talented and caring professionals in the country. We are looking for energetic, dynamic people to work with us to make a difference in the lives of the people we serve.
Learn more about how Darleni earned her Master's Degree while working at and getting support from JRI.
In-Home Therapists
In-Home Therapists have the opportunity to support children and families in their home as part of a collaborative team. The In-Home therapy (IHT) team consists of both a Master's and Bachelor's Level Clinician offering a combination of Intensive in-home therapy, and therapeutic training, and support to youth with emotional, behavioral and learning challenges.  Intensive in-home therapy may include working with the entire family, or a subset of the family, to improve: problem solving, limit setting, communication, risk management/safety planning, and effective patterns of interaction.  The goal is to help stabilize the youth in their home and community and to prevent the youth's admission into out-of-home treatment settings. 
This is a great opportunity for someone who wants flexible hours and to make their own schedule. We also have a commitment to supervision and training, including internal professional development training on evidence based practices such as two day ARC training, TF-CBT and Triple P with CEU's available! IHT- specific on-board training and on-going supervision provided.
 
Requirements for In-Home Therapists:
Master's Degree in a mental health field (including, but not limited to, counseling, family therapy, social work, psychology, etc.) from an accredited college or university.
Have their own reliable & safe means of transportation
Must provide proof of valid automobile registration and Drivers License
Possess automobile insurance
Posses excellent verbal & written communication skills
Be familiar and sensitive to diverse cultures & ethnicities
Ability to work with various community organizations and professionals
Experience or interest in working in racially, ethnically, and socioeconomically diverse urban and rural communities
Understanding of family dynamics
Willingness to work flexible hours including evening and weekend hours
Fully vaccinated against COVID-19
Bilingual candidates encouraged
Pass standard CORI/SORI screening
Regions
We have several regions currently seeking In-Home Therapists.  
Acton, MA
Attleboro, MA
Boston, MA
Cape Cod, MA
Chelmsford, MA
Gloucester, MA
Holyoke, MA
Lawrence, MA
Lynn, MA
New Bedford, MA
Salem, MA
Southington, CT
Taunton, MA
Willimantic, CT
Flexible schedules are available.  To learn more or apply for an In-Home Therapist position, please email your resume to Amy Sypher, Program Development Specialist, asypher@jri.org.  

Learn more about how Dalene Basden, Director of Family and Community Engagement, helps families in the community.
Intensive Care Coordinators
JRI is seeking full-time Intensive Care Coordinators to join our team. Care coordination is driven by the needs of the family and is developed through a Wraparound process consistent with System of Care philosophy. Our mission is to ensure that families and their children with significant behavioral, emotional, and mental health needs obtain the services necessary for success in home, school and the community.
Intensive Care Coordinators have the opportunity to 
Compassionately and competently facilitate Care Planning Teams; coordinating and care planning of multiple services/supports for MassHealth-enrolled children and youth under the age of 21 with serious emotional/behavioral health needs.
Act as a liaison with individuals, partnering agencies, and supportive programs/services, guiding the care of youth and their families towards success.
Identify, assist, and monitor available services and natural supports for youth and families.
Receive ongoing training and support through in person and virtual trainings, staff meeting and 1:1 supervision.

Requirements for Intensive Care Coordinators:
Bilingual (Spanish) speaking applicants preferred
Bachelor's or Master's Degree in Social Work or other related field required
Experience navigating child/family-serving systems and working collaboratively with state agencies, consumer advocacy groups, and/or behavioral health facilities preferred
Experience in working with and advocating for children/families with serious emotional/behavioral health needs, preferred
Knowledge of Wraparound systems of care and child welfare, preferred
Willingness to work flexible hours including evening and weekend hours
Fully vaccinated against COVID-19
A valid driver's license and reliable vehicle, as travel is required
Regions
To learn more or apply for an Intensive Care Coordinator position, please email your resume to Amy Sypher, Program Development Specialist, asypher@jri.org.  

Learn more about how Andrea Joyner, Program Director for Southeast Behavioral Health Center worked her way up the career ladder at JRI.
 

Outpatient Therapists

JRI's Outpatient Clinics are seeking Master's Level Clinicians to provide outpatient therapy to children and adults.

The Clinician is responsible for the clinical care of individuals of various backgrounds and diagnostic profiles. The Master's Level Clinician provides an active role in supporting individuals to become their best selves within the structure of their home and communities. Clinicians have an opportunity to use their clinical skills and knowledge to explore what methods work best for each unique person. While also continuing to use and explore individual, couples or family therapy styles in the outpatient setting.

Requirements for Outpatient Therapists:
Minimum of Master's degree in Social Work, psychology, counseling from an accredited college or university required. 
Community mental health program experience preferred; experience working with specialized populations preferred.
Experience in therapy modalities of various styles. Knowledgeable in growth and development; able to obtain and interpret information in terms of the needs of emotionally disturbed, mentally ill youth and their families; understanding of the range of interventions and treatment required by this population.
Fully vaccinated against COVID-19
Must also have an acceptable CORI (Criminal Offender Record Information), OIG background check, and appropriate driving record.
Locations
Acton
Attleboro
Gloucester
Lynn
Taunton
To learn more or apply for an Outpatient Therapist position, please email your resume to Amy Sypher, Program Development Specialist, asypher@jri.org.  

Sign-On Bonuses
JRI is currently offering a $2,000.00 sign-on bonus for full-time Master's level positions and a $1,000.00 bonus for full-time paraprofessional positions.  The bonus will be paid at the 90 day evaluation.
Benefits
JRI offers our team members and their families an extremely competitive benefits package that is amongst the best in the industry. We recognize the importance that a rich benefits plan will play in our everyday lives, and we award staff with competitive affordable programs meant to enhance the quality of their lives.
| | |
| --- | --- |
| Generous Paid Time Off (PTO)  | Full time employees receive six weeks of time off, including company paid holidays, in the first year. |
| Medical (16+ hrs per week) | Blue Cross Blue Shield of New England is the health insurance carrier for most of our employees. BCBS also offers a $150 Fitness Reimbursement, in addition to weight-loss reimbursement and tobacco cessation resources. |
| Dental | JRI pays 100% of the monthly cost of Delta Dental insurance for our employees who work 31 or more hours per week. Employees who work 20-31 hours per week pay for dental coverage on very affordable prorated amount. |
| Vision | Employees may elect coverage through Eye Med for a comprehensive and affordable vision plan. |
| Pension Plan | The pension plan is a Defined Benefit plan that is company-paid and is provided at no cost to employees. An employee is eligible and included as a participant in the plan if they are working 1,000 hours during the plan year. If an employee leaves JRI before retirement age they will be entitled to receive some level of pension benefits upon retirement if the employee has worked with JRI for at least 5 years or longer. |
| 401K Plan (20+ hours per week) | JRI will match employee contributions to the 401K plan up to a maximum of $800 per calendar year. Contributions are non-taxable until withdrawn. |
| Tuition Reimbursement (30+ hours per week) | JRI team members who are in good standing will be eligible for up to $1,350 of reimbursement for tuition for up to three courses per calendar year (maximum of $4,000 per calendar year) at an accredited college or university.  We also have partnerships with several local colleges and universities to help significantly reduce the cost even more for our employees.  See JRI's Educational Opportunities for more information. |
| Tuition Remission | JRI employees are eligible for the Tuition Remission program. The program offers free tuition for day time regular school year undergraduate courses at state college and universities, including state community colleges. This is on a space available basis and is subject to other terms and conditions. |
Other benefits include flexible spending accounts for dependent care and healthcare, an employee assistance program, life insurance, short term disability (CT employees only), long term disability and supplemental life / AD&D.
Top Places to Work: Diversity Edition
JRI is proud to be named one of the Top Ten Companies in all of Massachusetts when it comes to diversity and inclusion. This list was drawn from scores of companies of all sizes and types who were surveyed in 2020.