Learn more about Taina Nazario's experience in the MSW program at Bridgewater State University while working at JRI.
YESTERDAY:
JRI's partnership with Bridgewater State University (BSU) began with the idea of wanting to create an accessible, affordable opportunity for JRI staff to pursue and further their academic interests as well as create career paths for BSU students to pursue internships and opportunities to work in the mental health field.
TODAY:
Many of BSU's values closely align with JRI's mission. From our collaboration with the BSU School of Social Work department, Substance Use certification or events happening at the Martin Richard Institute of Social Justice, we, together are in pursuit of social justice and creating opportunities.
TOMMOROW:
JRI's commitment to creating educational opportunities for our staff will not waiver and as our partnership with BSU continues to grow more places to partner or support each other becomes more apparent.


What does YOUR tomorrow look like?
BSU has many options available to obtain a Bachelor in Social Work (BSW) or Master in Social Work (MSW). The School of Social Work offers:
Full-time or part-time program options
Daytime, evening classes and Saturday classes
Diverse faculty with a range of experience in social work settings
Wide range of placement opportunities*
Affordable tuition*
In addition, Bridgewater State University has a partnership with Bristol Community College.  Learn more about the CC2BSU program.
*JRI is strongly committed to affordable tuition and offering a wide range of placement opportunities.
We want to ensure JRI staff has access to placement opportunities within JRI, working a field placement with a different program service delivery than their home program. In addition, leveraging programs who currently collaborate with BSU and understand the need for flexibility and creativity.
 
For anyone obtaining a BSW at BSU, JRI will reimburse for tuition, up to 3 courses per calendar year (maximum $4,000 per calendar year). More specifically, any staff working toward their Master in Social Work, JRI offers a 1/3 scholarship!


How Tuition Reimbursement Works for the BSW Program at Bridgewater State University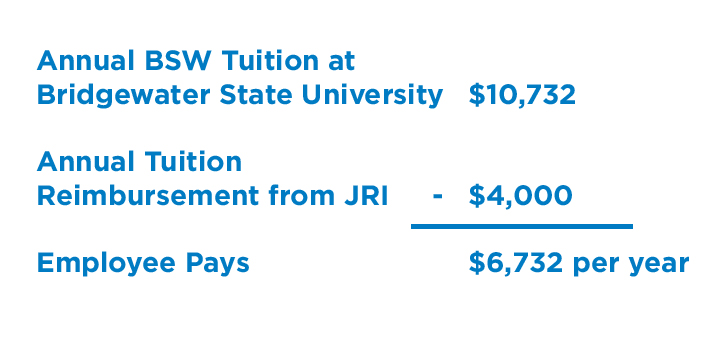 There is no wait time to be eligible for tuition reimbursement for the Bachelor's Degree Program at Bridgewater State University.  As soon as you become employed by JRI, you are eligible for this benefit.
How Tuition Reimbursement Works for the Master's in Social Work Program at Bridgewater State University
Please note that the amounts vary with the amounts of credits taken, depending on how long the student takes to complete the program. And that tuition and fees is subject to change each year.