Statement from Andy Pond, President and CEO of JRI
JRI joins those who are loudly protesting the institutional violence against people of color, seeking systematic change in response to systematic racism. We believe that the justified anger and grief we feel must be coupled with action:
We should work as hard as we can to elect individuals who share our values, who will support the legal and economic actions needed to confront and stem the tide of race-based violence and discrimination. This next election matters--at all levels--maybe more than ever before.
We will work for racial justice in our own programs and advocate for it with the systems that we are a part of through our funders, regulators and trade organizations.
Many of us have joined peaceful protests, and we encourage others to join us if they feel safe enough to do so.
Despite our anger, we know that the response to this violence cannot be more violence—which is likely to hurt the very communities we are supporting.
And remember we are all accountable to each other to slow the spread of the virus that is killing people of color at up to three times the number of other groups.
Be safe—we need you to be here to fight tomorrow
Learning and Historical Material
Upcoming Protests and Events
Legislation Supported by JRI
Ten point plan to combat systemic racism  Elected officials of color developed a 10 point plan to combat systemic racism in policing and police brutality.

Today the House Ways and Means Committee released its FY 20 Supplemental Budget proposal.  Please click here to ask your Representative to co-sponsor Rep. Decker's amendment (#7) to provide short-term relief for families and individuals in deep poverty.  A fact sheet is available here. This amendment would provide a one-time immediate payment to Massachusetts' 33,000 families with children who receive Transitional Aid to Families with Dependent Children (TAFDC) benefits and 21,000 elders and persons with disabilities who receive Emergency Aid to Elders, Disabled and Children (EAEDC) benefits.  Payments would equal the maximum grant for the household size (e.g., $593 for a family of 3 or $303 for an elder or disabled individual).

An Act Putting Patients First, proposes a number of healthcare reforms, including key provisions related to rendering services via telehealth.

Designation Act of 2020 (H.R. 4191/S. 2661) would designate 9-8-8 as the new three-digit mental health and National Suicide Prevention Hotline number.  
Other Resources
Listen to JRI's podcast episode about our response to COVID-19 and racial injustices.
Learn more about the candidates for US Senate and how they responded to questions about Justice System Reform.
NAACP Community demands regarding police involved shootings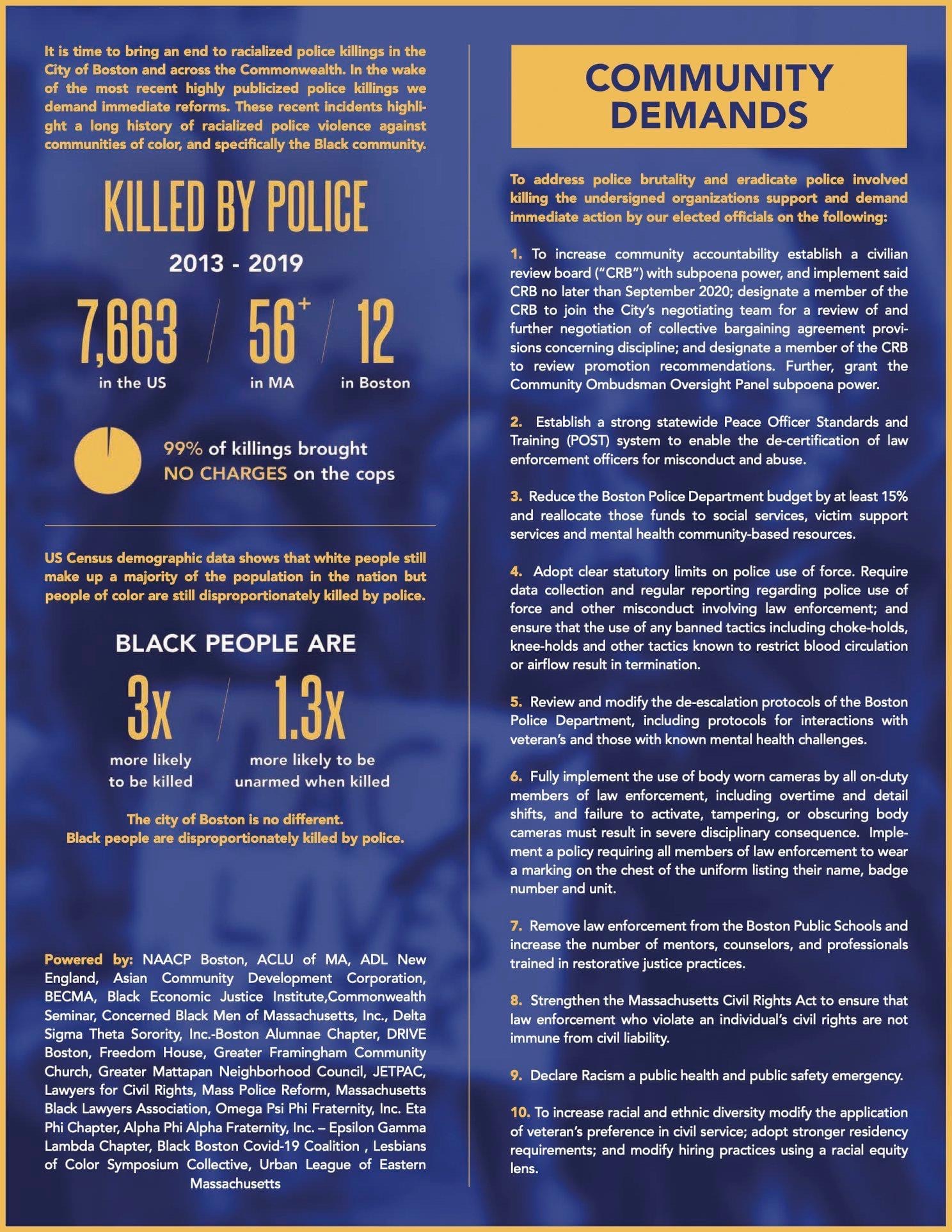 Photos from Protests and Events