LGBTQ+ Information and Resources
Photos from Protests and Other Events
A message from Andy Pond, President & CEO:
Four years ago, in the wake of a divisive election, we encouraged everyone to work to elect officials that reflect their values.  I also encouraged our colleagues to recognize that the work we do every day advances those goals. And sure enough, JRI's internal focus and external advocacy on diversity and inclusion have both advanced greatly since then: There are multiple initiatives at JRI based on our most recent strategic plan that are focused on diversity and inclusion.
This election has left me much more hopeful. Voting turnout was high. A brighter light has been shone a spotlight on critical issues of racism, police violence, immigration, homophobia, and the disproportionate impact of COVID on people of color. And as with every election, depending on your individual perspective, there is both good news, and areas that are still concerning. In their acceptance speeches, both the President-Elect and the Vice President-Elect called out systemic racism as one of the great barriers remaining to a "more perfect union".  We can also expect a comprehensive Federal response to the virus.
And let us also celebrate—regardless of party—the fact that Kamala Harris has smashed multiple barriers. A daughter of immigrants from Jamaica and from India, she is the first woman, the first South Asian, and first Black Vice President. That is a truly amazing indicator that progress is real.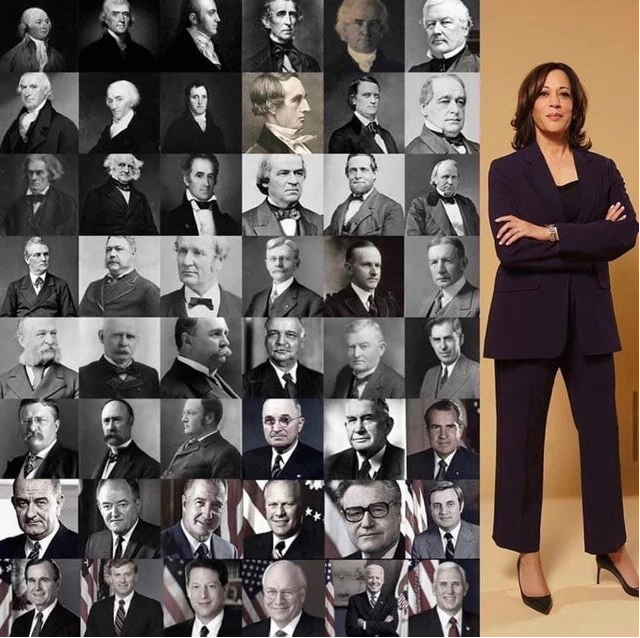 No place of employment, no community, no large group of any kind is political monoculture. Not all of us will be happy with the results of this election. But that doesn't mean we can't find common ground. Difficult (and courageous!) conversations can still be civil and productive.
Both Biden and Harris have said—explicitly--that the winning side this time (in addition to taking strong action) will be magnanimous in victory, and strive to serve all Americans, not just those who voted for them. We hope this message of bipartisan inclusion and tolerance will resonate widely.
For those of us who are happy with the outcome, we have an obligation to hold our elected officials to their promises. The work is not yet done.
We have not been waiting for change--we have been working for it.
Upcoming Protests and Events
Know Your Rights: Demonstrations and Protests  Know Your Rights: Demonstrations and Protests
Ongoing
December
Take Action!
---
Here's a message from Maria Shriver of The Sunday Paper
People are tired and exhausted. Tired from trying to keep it all together. Exhausted from trying to figure out how to pivot, how to redirect, how to home school, how to shift a business model, how to care for everyone and act like it's no big deal…
A friend once said something about me that really landed. He said, "Every time I tell you I'm tired or I tell you all I've done, you just suggest one more thing I can do. I feel like you don't hear me. Instead of giving me more to do, what I want you to say is 'I see all you have done. I see that you are tired. I hope you rest. You deserve rest.'"
Bam. Ouch. I've thought a lot about that piece of "constructive criticism" and have tried to adjust so that I don't get it again from anyone else. So on this day, instead of giving you an assignment, I want to say, "I see all you have done. I see all that you are trying to do to stay afloat. I bet you're so tired. I am too."
So today, please rest. You deserve to rest. We all do. Today, I hope you take a moment and acknowledge all that you have been doing. I bet you are flooded. Breathe. I'm sorry about all the chaos, all the work, all the anxiety, apprehension, and fear. I'm not going to suggest you do anything more today except… Rest. Breathe. Be. 
Maria Shriver
The Sunday Paper
October 11, 2020 
Legislation Supported by JRI
You can find contact info for your state legislator here: https://malegislature.gov/search/findmylegislator  

And then call or email to ask that they support: 
Ten point plan to combat systemic racism  Elected officials of color developed a 10 point plan to combat systemic racism in policing and police brutality.
Reform, Shift + Build Act, released by the Senate.  This race equity and policing bill expands the eligibility for expungement.  Here's more information on the expungement law.
School Resource Officer Research:
All available evidence does not support the argument that police in schools make them safer; their presence is instead tied to increased arrest, disproportionately targeting students of color, for low-level offenses. The presence of and interactions with police in schools have a negative impact on students' academic achievement and mental health, and creates an environment of fear and distrust; School police are NOT counselors: students do not have any confidentiality protections in dealings with school police as they do with counselors and mental health professionals.
Police presence in schools is detrimental for students, new study finds
Check out the new media kit around School Resource Officers (SRO's) and the research that shows their ineffectiveness in school settings. The report was created by Citizens for Juvenile Justice and Strategies for Youth to highlight the disparities when it comes to treatment of white students and students of color as well as other downfalls of policing in schools.
Racial Justice Resources
Letters for Black Lives: an open letter project on anti-blackness (a set of crowdsourced, multilingual, and culturally-aware resources aimed at creating a space for open and honest conversations about racial justice, police violence, and anti-Blackness in our families and communities)
Harvard Business Review: Woke-Washing Your Company Won't Cut It 
Huffington Post: Disconnect Between How White People and People of Color View Allyship in the Workplace
The Atlantic:  Anti-Racism Books Are a Means Not an End
Learn more about the candidates for US Senate and how they responded to questions about Justice System Reform.
As Massachusetts Reopens, Data Shows People of Color Face Greater Risk From COVID-19.
Guest Commentary in Lexington: All Black Lives Matter by Together We Rise Group
Essay from Rep. John Lewis written before his death to be released on the day of his funeral.
Listen to JRI's podcast episode about our response to COVID-19 and racial injustices.
MetroWest Health Foundation releases report, "Racism and Public Health: A Connection Rooted in Structural Inequities".  Clear data and straightforward conclusions from a community organization working with Metro West communities to address racial disparities in healthcare.
Framingham, the ball's in your court': 9-year fight for justice continues for Eurie Stamps, Sr., 68-year-old grandfather killed by policeman in 2011
This op-ed was written by Dr. Jeannette Callahan from JRI's DYS division.  She uses her perspective as a pediatrician to advocate for changing the laws around qualified immunity for the police. Check it out here!
Check out the Federal Juvenile Justice Networks updates for the month of October here!
Waltham Residents Urge City to Remove Columbus Memorial. JRI supports Indigenous People's Day! Check out this article in The Patch.
Immigration Resources
Information About the New "Public Charge" Rule
The new "public charge" rule is now in effect in all states except New York, Vermont and Connecticut. For more information about the public charge rule please visit the Protecting Immigrant Families website. Links to additional resources are provided below.
Here are some important things to know:
1. Many immigrant groups are not subject to the "public charge" test including: Lawful Permanent Residents, asylum seekers, refugees, TPS, DACA renewals, U or T Visas, and Special Immigrant Juvenile Status.
2. Some benefits are not considered in determining whether someone is likely to become a "public charge" including: Medicaid for children under 21 years old, pregnant women, and new mothers.
For specific information about how the new "public charge" rule may affect you, consult an immigration attorney.
Additional Resources:
Immigrant Eligibility for Public Programs During COVID-19
Elegibilidad de Inmigrantes Para Programas Públicos
Protecting Immigrant Families Resources
Protecting Immigrant Families Digital Media Toolkit
Know Your Rights: What to do if you're stopped by police, immigration agents, or the FBI Know your rights (English)
Conozca sus derechos: parado/a por la policia, agentes de inmigracios o el FBI Know your rights (Spanish) 
Immigrant Raid Resources:
CLASP Immigration Raid Resources
National Immigration Law Center How to Be Prepared for an Immigration Raid
National Immigrant Justice Center Community Resources
United We Dream Know Your Power, Know Your Rights
Donate
Cosecha: Advocacy group requesting fund to continue the fight for DACA students. Support the Fight Financially. 
United We Dream Network
DRUM - Desis Rising Up & Moving
Define American
Student Immigrant Movement - local Boston organization for undocumented students 
Centro Presente 
Chelsea Collaborative
Coalition of Humane Immigrant Rights
Massachusetts Immigrant and Refugee Advocacy Coalition (MIRA)
RAICES
LGBTQ+ Information and Resources
LGBTQ Organizations Call for Swift Response to Address Devastating Prison Conditions. Read the full letter in response to the U.S. Department of Justice report on living conditions for incarcerated individuals.
Mental Health Information, Resources for Persons with Disabilities, and other Social Justice Issues
The New York Times: People with Disabilities Make Up 20 Percent of the Population Yet They're Still Invisible
Equity Matters: Mental Health - Switching the Focus from Access to Re-thinking the Delivery System - a blog post from MetroWest Health Foundation
The Lily: Mom Bias is Real and No Industry is Immune to It
JRI and William James College
JRI and William James College have partnered to expand and develop the 'pipeline' of candidates that reflect the diversity and lived experience of the communities we serve. With William James, and with other colleges and universities, we have found partners that share our social justice mission, our commitment to racial equity, and our dedication to culturally competent services. A very important part of this effort is to substantially reduce the cost of education. By helping student/employees to avoid crippling college debt, many of these new partnerships alongside JRI are making careers in nonprofit work more attractive to a broader and more diverse base of individuals." - Andy Pond, CEO of JRI
Learn more about our partnership with William James College.
Photos from Protests and Events