Trot On provides psychotherapy services to youth, young adults and their families. We serve individuals who struggle with social, emotional and behavioral challenges, and who have complex trauma histories. We offer counselling for individuals struggling with substance use or who have risk factors for substance use. Psychotherapy with equine interaction provides a unique experience of embodiment and connection with another living creature.  In understanding how trauma impacts neurodevelopment, it is essential to provide therapeutic interventions that promote the mind-body connection.   
Referrals
If you would like to make a referral, please send completed referral form to Meredith Norton mnorton@jri.org 
Referrals can be completed by anyone (self, parent, caregiver, guardian, therapist, etc.)

At a Glance
This service is for
Focus: We support youth and young adults who have experienced developmental trauma, as well youth and young adults who are seeking treatment or early intervention for substance use.
We offer psychotherapy with mental health clinicians who have specialized training and certification in horse-human interactions.
Ages: 12-24
Gender: male, female, transgender, non-conforming
Accessing this service
Our services are considered outpatient therapy. Our services are funded by the Department of Public Health.
Locations: We partner with farms located in Marshfield, Lancaster, and Tewksbury
Trot On is a therapeutic program utilizing EFT-CT (Equine Therapy for Complex Trauma) to promote each individual's strengths and resilience.  We strive to make a difference in the lives of each individual we serve, through individualized, strengths based, trauma informed treatment.  
EFT-CT is a trauma-informed model, designed to incorporate core components of intervention that target areas impacted by exposure to trauma. These areas include emotion regulation, interpersonal functioning, executive functioning, and self-identity development. Additionally, EFT-CT focuses on safety (both physical and relational), which can promote reflective associations for individuals impacted by trauma.   
Horses are social mammals with complex emotions, just like us humans. Learning about horse behavior and interacting with horses gives us the opportunity to learn more about ourselves. Participants build connections with the horses they work with; these connections support trust building and perspective taking. Interacting with horses gives opportunity for experiential learning; rather than just talking, we are actively practicing skills. This can enhance engagement in therapy and support insight building and behavior change.
Referrals
If you would like to make a referral, please send completed referral form to Meredith Norton mnorton@jri.org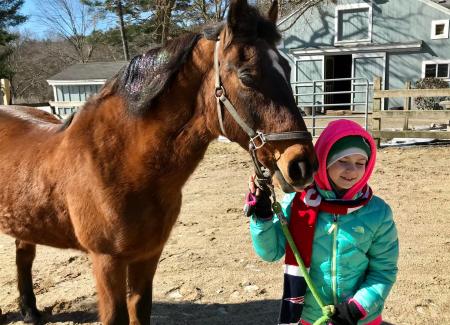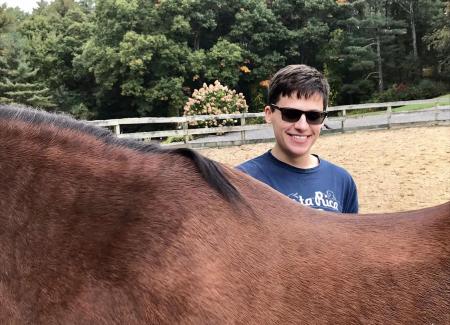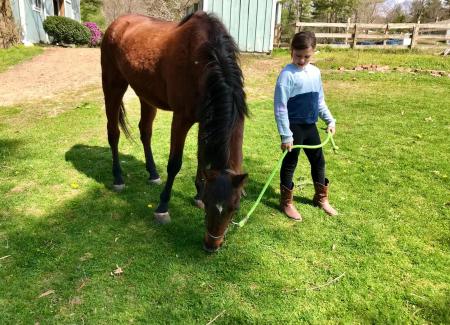 EFT-CT adopts principles consistent with ARC (Attachment, Self-Regulation, and Competency). Recognized by the NCTSN as a promising practice, ARC is a comprehensive framework for interventions to be used with youth exposed to complex trauma. All JRI clinicians have been trained in the ARC framework and integrate ARC principles into their practice. Interventions are tailored to each client's needs and may include individual therapy for children, education for caregivers, and parent-child sessions.
Working with horses and a mental health practitioner
Clients work with a licensed mental health practitioner who also has specialized training and certification in horse-human interactions.  Individual therapy sessions typically last 45 minutes and are anchored in an established routine tailored to the client's needs.  Sessions may include activities such as learning about horses/horse behavior, observing horses, sitting with or patting horses while talking to the therapist, caretaking for horses, learning to walk with horses using a lead rope, learning to communicate with horses, etc. Please note that sessions do not include any horseback riding.