Trot On provides psychotherapy services to children, adolescents, adults and their families. We serve individuals who struggle with social, emotional and behavioral challenges, and who have complex trauma histories.  Psychotherapy with equine interaction provides a unique experience of embodiment and connection with another living creature.  In understanding how trauma impacts neurodevelopment, it is essential to provide therapeutic interventions that promote the mind-body connection.   Trot On employs the EFT-CT model (equine facilitated therapy for complex trauma).  This model promotes skill development in areas impacted by complex trauma, including emotion regulation, social functioning, executive functioning, and self-identity development.  EFT-CT also promotes a sense of relational safety, empowerment and trust. 
Referrals
If you would like to make a referral, please send completed referral form to Meredith Norton mnorton@jri.org

At a Glance
This service is for
Focus: We support youth and adults who have experienced developmental trauma, as well youth and young adults ages 12-24 who are seeking treatment or early intervention for substance use.
We engage in horse related activities with a licensed clinician certified in therapeutic riding instruction to promote resilience.
Ages: 6 and up
Gender: male, female, transgender, non-conforming
Accessing this service
Our services are considered outpatient therapy. We accept Masshealth, Blue Cross Blue Shield, Beacon BMC Commercial, Beacon NHP Commercial and Beacon GIC Commercial.
Locations: We partner with farms located in Marshfield, Lancaster, and Tewksbury
Trot On is a therapeutic program utilizing EFT-CT (Equine Therapy for Complex Trauma) to promote each individual's strengths and resilience.  We strive to make a difference in the lives of each youth we serve, through individualized, strengths based, trauma informed treatment.  Our clients enjoy a holistic farm environment in southeastern MA. 
EFT-CT is a trauma-informed model, designed to incorporate core components of intervention that target areas impacted by exposure to trauma. These areas include emotion regulation, interpersonal functioning, executive functioning, and self-identity development. Additionally, EFT-CT focuses on safety (both physical and relational), which can promote reflective associations for youth impacted by trauma.   
We utilize this specialized treatment modality to promote attachment building, as youth learn to attune to the horse's cues.  The horse-human dynamics explored in therapy can translate to everyday interpersonal interactions.  Individuals often develop a trusting relationship with the horses they work with, which can improve communication strategies and overall social functioning.  Working with the horses also allows youth to build self-regulation skills.  The sensory input received from the natural rhythm of the horse's gaits (walk, trot, canter), also promotes mind-body awareness.  This type of sensory-based intervention engages youth in a way that allows them to tolerate and modulate heightened emotions.   Working with horses also allows youth to engage in higher-order cognitive processes, including problem solving, following multi-step directions, maintaining focus, prioritizing tasks to achieve goals, and inhibiting impulsive reactions.  Psychotherapy with Equine Interaction supports youth in building competency, mastery, felt-safety, and developing a cohesive sense of self through direct experiences. These experiences can be applied in the therapeutic process, helping individuals to integrate their trauma experiences effectively. 
Referrals
If you would like to make a referral, please send completed referral form to Meredith Norton mnorton@jri.org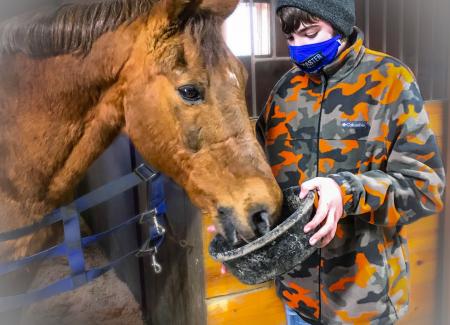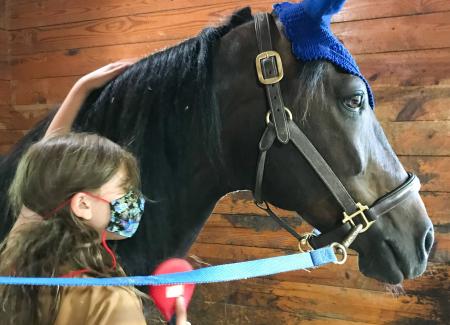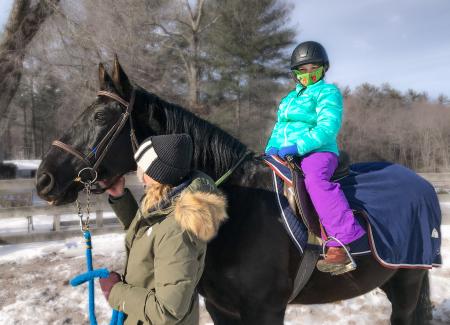 EFT-CT adopts principles consistent with ARC (Attachment, Self-Regulation, and Competency). Recognized by the NCTSN as a promising practice, ARC is a comprehensive framework for interventions to be used with youth exposed to complex trauma. All JRI clinicians have been trained in the ARC framework and integrate ARC principles into their practice. Interventions are tailored to each client's needs and may include individual therapy for children, education for caregivers, and parent-child sessions.
As a form of experiential therapy, EFT-CT can offer more effective interventions for youth who have experienced severe trauma. Experiential interventions have proven to be more effective for youth who are often not responsive to more traditional modalities such as talk therapy. For many youth, building a trusting relationship with a therapy horse has helped them navigate relationships in their daily lives.
Working with horses and a mental health practitioner
Clients work with a licensed mental health practitioner who is also a PATH Intl. (Professional Association for Therapeutic Horsemanship) Certified Therapeutic Riding Instructor.  They are matched with a therapy horse according to physical size, comfort level, temperament, and therapeutic goals. Sessions may include mounted work (riding), or unmounted work (working with the horse on the ground). Equine therapy individual sessions typically last 45-50 minutes and are anchored in an established routine tailored to the client's needs. 
These collective interventions support functional skill development to promote each participant's resiliency, stability, and overall health and well-being.
In order for our youth to "trot on," we need a "leg up!"  As part of a non-profit agency, our program depends on generous donations from those who support our work.  Please consider making a donation.