From the beginning of our work with every client and their family, JRI's professional caregivers seek to learn from, support and strengthen the close bonds between our clients and their families. When we think of families, we include anyone that our clients identify as part of a permanent, lifelong relationship that sustains them.
Because we believe that permanency in human relationships is essential to the health and well-being of every individual, JRI seeks to nurture and help strengthen those permanent connections throughout our interaction with all of our clients. Family engagement is the lens through which we provide services and make decisions with each of our clients, whether they are receiving assistance in one of our residential programs, outpatient clinical programs, group homes, foster care or community-based programs.
We encourage families to assist in JRI's program development and quality improvement efforts by participating in our Family Advisory Council, which advises JRI leadership and staff on how best to serve our clients.

Family Advisory Council
Help Make Us Stronger!  Seeking diverse caregivers from underrepresented communities who can bring their experiences and perspectives to the council and make us stronger
JRI's Family Advisory Council offers a supportive space where caregivers have a guiding voice and work side by side with agency leaders to set goals to improve care for the individuals we serve and their families.
Help us create a greater sense of family partnership, engagement and collaboration as we improve treatment for individuals and families at JRI. Together, we'll create a stronger support network within the agency for navigating any challenges that may arise.
If you are interested in joining JRI's Family Advisory Council, please contact Rachel Arruda at rarruda@jri.org.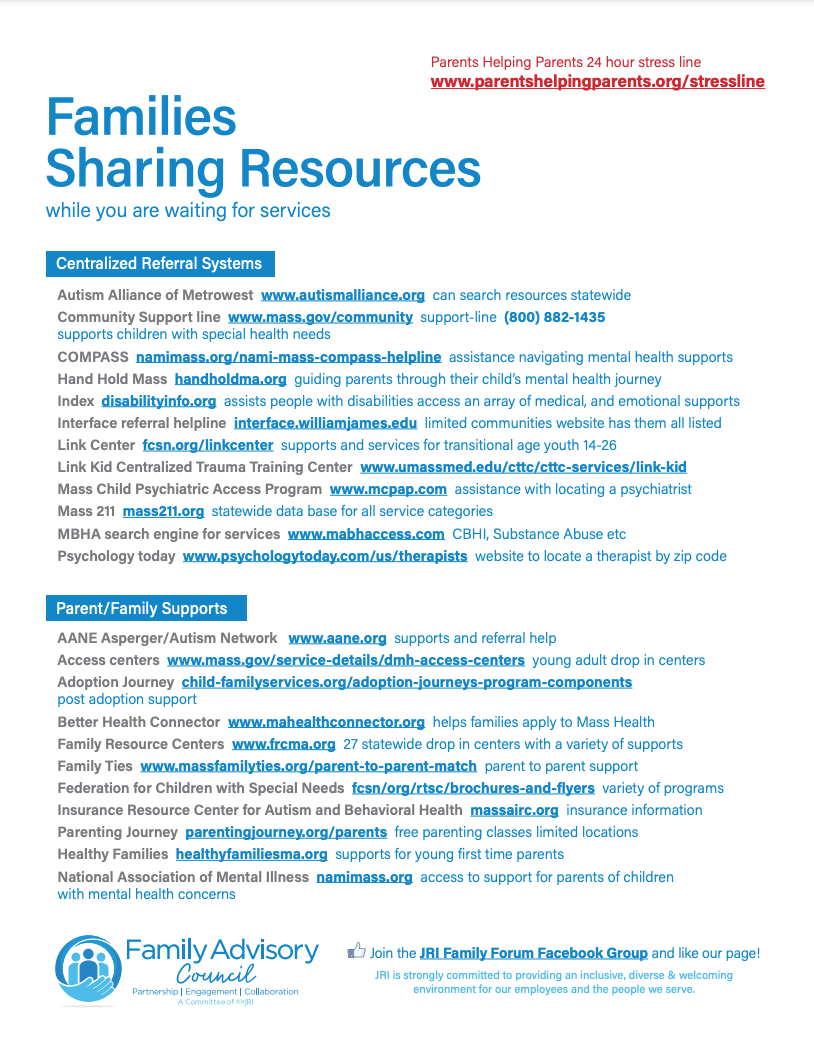 Are you currently on a waiting list for services and not sure where to look next?  JRI's Family Advisory Council developed this Families Sharing Resources list to help while you are waiting for services.  These are not programs or services of JRI.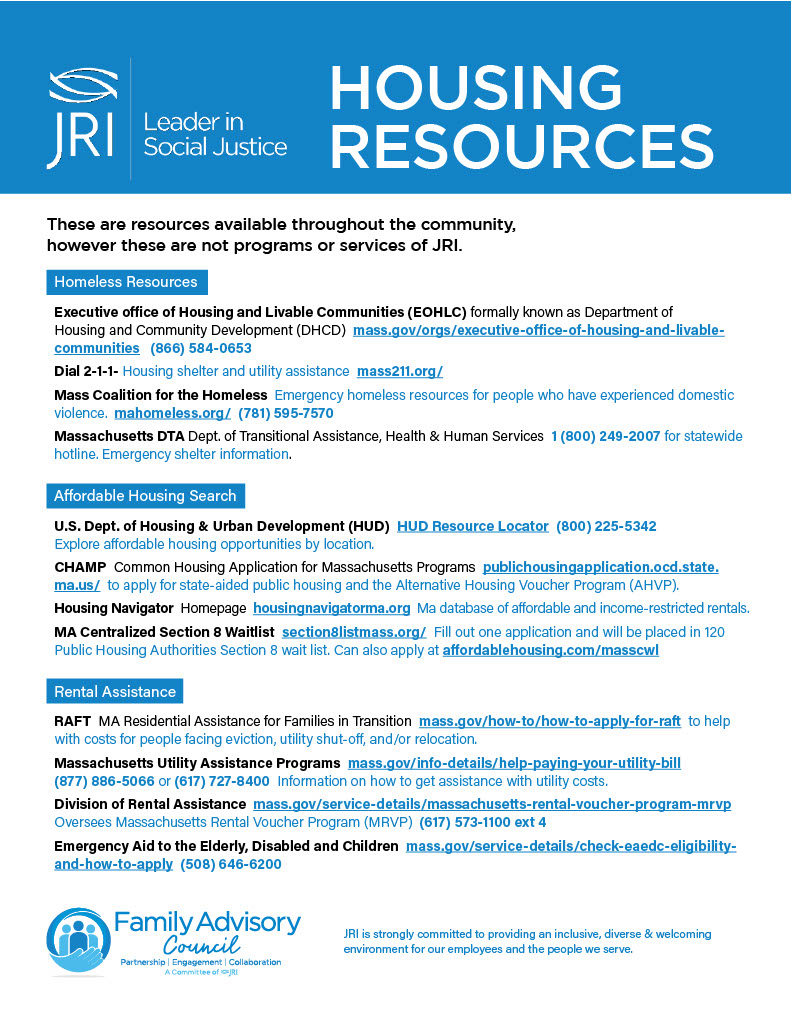 Our Housing Resources list can help connect you with housing resources throughout the community.  These are not programs or services of JRI.
Resources for Talking to Children About School Violence
In response to the devastating shooting at Robb Elementary School in Uvalde, Texas, here are some resources to help families talk with their children and to help navigate this horrendous situation.

Permanent Connections are Vital for a Child's Success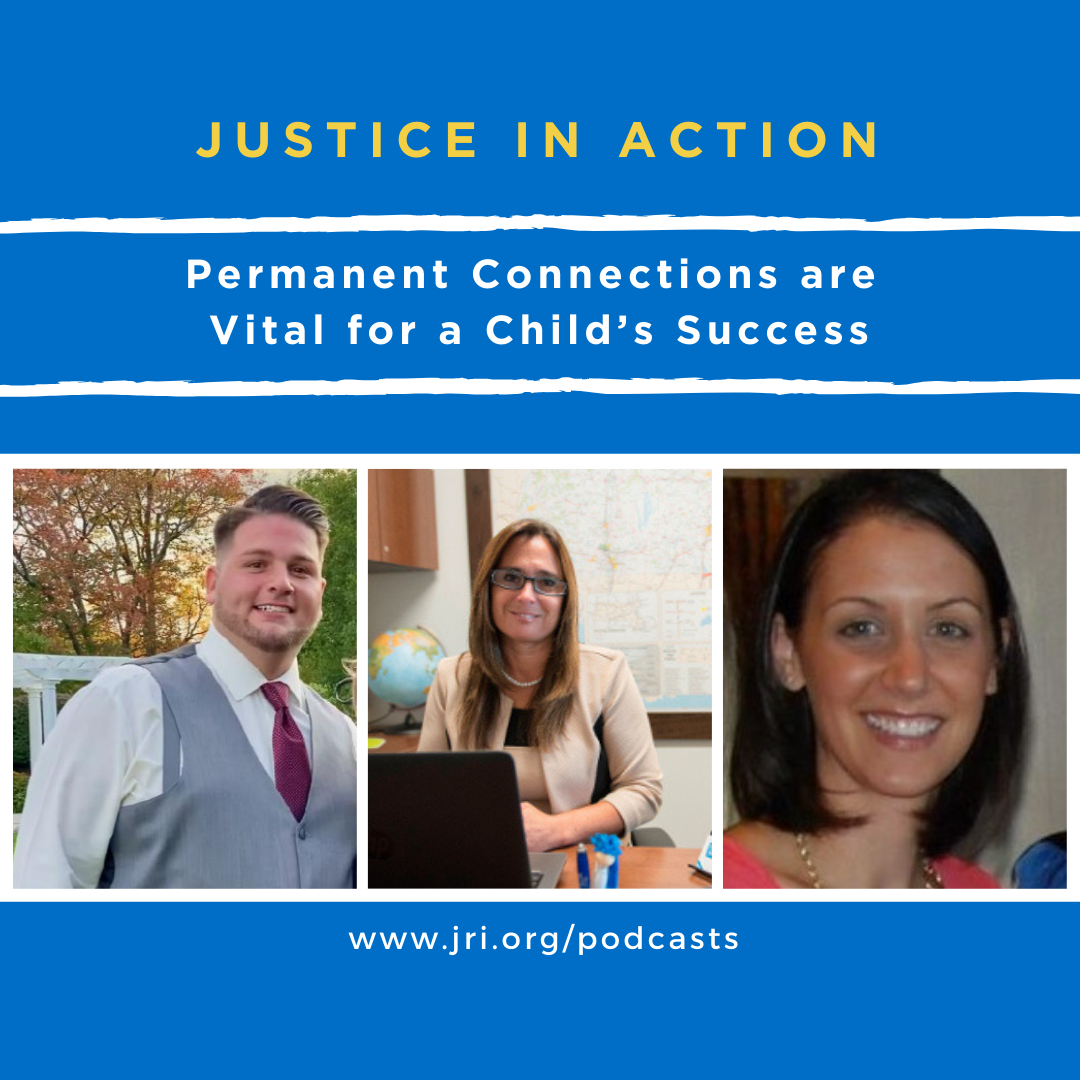 We all need the people in our lives who know us and care about us, who celebrate our successes and comfort us in hard times. These are the people we call when we get a new job, lock our keys in the car or are facing a big decision.  Listen to this podcast episode featuring Jason Galli; who entered the social services system from birth, and found permanency for himself; Meredith Rapoza, division director of permanency and latency services for JRI, and Rachel Arruda, director of service coordination and family engagement at JRI.

Meet Rachel Arruda, JRI's Director of Service Coordination and Family Engagement at JRI.

How to contact Rachel: