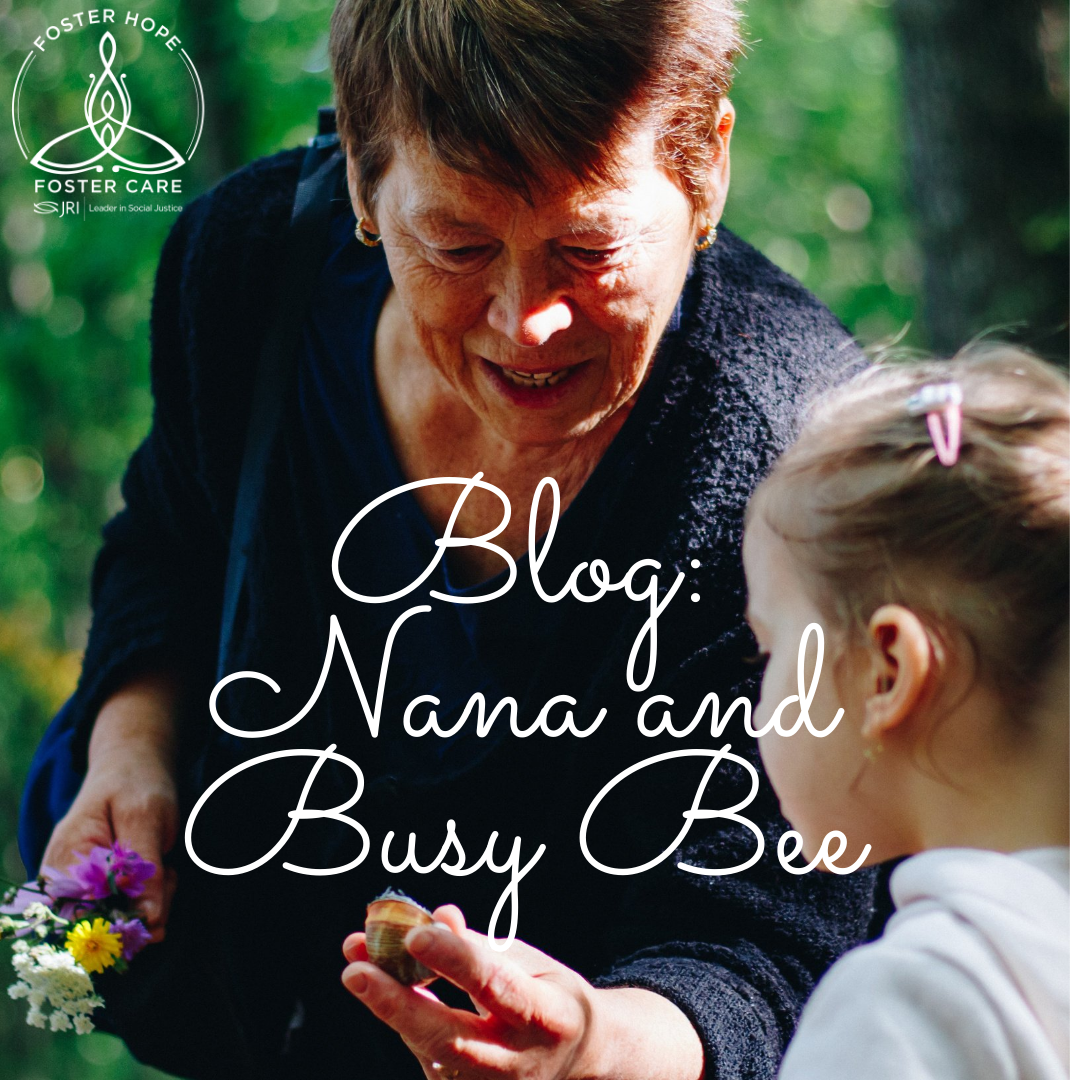 At age 91, Nana decided it was time to retire.  She turned 90 last year during the early days of the pandemic.  We couldn't celebrate her in the way we'd wanted.  Nana called us early on.  "I don't think I should take any children right now.  It just doesn't seem safe."  We agreed. 
Nana was in her 60's when she started fostering.  She'd always wanted to, but hadn't had the time.  Her children were grown, her grandchildren were in school, and suddenly she had the time.
She nurtured countless children over her three decades of fostering.  She'd take a little time off, have a knee or hip replaced, and then she'd call.  "I'm ready for another one!"
The last five years or so have all been respite placements.  "You're going to Nana's for the weekend," parents would tell their kiddos.  For the ones who'd already been, they'd get excited.  They'd walk Mighty Mouse, her dog, and order pizza for dinner.  They'd watch old Disney movies and play board games.  "It's a little vacation," she'd tell them with a smile.
***
Miss Busy Bee was Nana's final long-term placement.  Busy Bee was eight, but very small.  She was waif-thin with big eyes that darted everywhere.  Her memory wasn't very good and she'd try to tell stories of her life, but they were very confusing to follow.  We weren't sure if Busy Bee was confused, or if her life had just been that chaotic.  It was probably a bit of each.  No one quite knew Busy Bee's story, but Nana didn't care.  "She needs me," Nana said.  "She needs to know love."
Busy Bee couldn't read.  She struggled in school.  Homework swam in front of her eyes and embarrassment could throw her into a rage.  She struggled to verbalize her thoughts, which snarled in her head and caught in her throat. 
"We draw pictures to each other," Nana explained to her case manager during a weekly visit.  She showed her the dry erase board on the refrigerator.  There was a big heart with their initials on either side.  Below was a scribble in red.  "That's her heart to me," Nana clarified.
Every day, there was a new drawing, a new message on the board.  Busy Bee looked for them each morning.
At night, Busy Bee woke every few hours.  She simply could not sleep.  She paced, she moaned, she cried. 
"You know," Nana said one day, "I think she's hungry."  Busy Bee's bones stuck out at angles.  She was all elbows, ribs, and knees.  "She eats only a handful here, a handful there.  I'm going to get her to eat."
Nana prepared little snacks, placed on saucer plates.  Half a piece of toast with jelly here, a turkey and cheese roll up there.  Every few hours, a little something for Busy Bee.  At night, every time Busy Bee began to buzz, there was a little snack.  Two crackers with peanut butter, a few slices of apple with cinnamon.  Always something small, nothing overwhelming, just enough.  Gradually, feedings stretched to three hours, then a little more.
"She slept through the night!" Nana celebrated.
"How did you do it?" we asked.
"Well, I thought, no one probably did that when she was a baby.  They didn't have the patience, they didn't do it regularly, so she hasn't known to expect food.  Her body probably stopped bothering to tell her it was hungry.  So I thought back to when I was a young mother.  I fed my babies every two hours, then every three, and so on.  We just did that, Busy Bee and I, so she knew I'd take care of her."
Busy Bee looked up from her after school snack, cheeks puffed out around a mouthful.  She smiled.
***
We don't know where Busy Bee is now.  Like the rest of Nana's kids, she went on to a new journey.  And just like the rest of Nana's kids, the foundation of love, of care, and of nurturance was planted through little acts of love, little moments of motherhood. 
Nana, we wish you every good thing during your retirement.  Thank you for the love that you planted in the countless lives you nurtured over the years.  You have meant so much to so many.