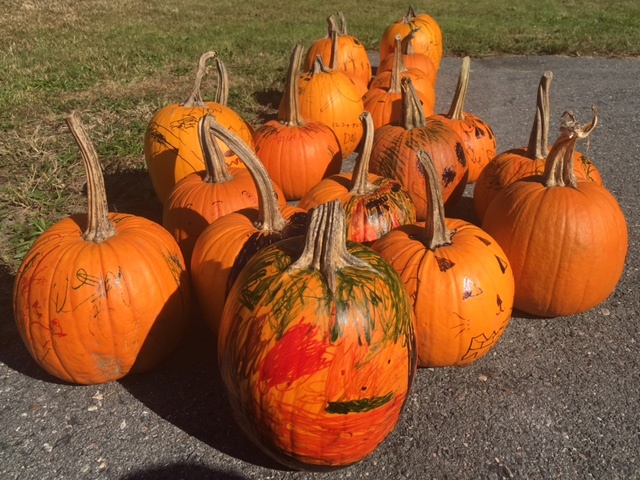 As you may have noticed, there was quite a gap in our blogging from early fall until the present.  Where did our blog go?  Well, fall and early winter are wild times around the office.  In addition to the usual (and sometimes very unusual) things that make up our days (and sometimes nights), the fall and winter months bring holidays and great expectations.  Here's a little glimpse into what you missed…
October used to boast a tiny, office-based Halloween Party.  Staff dressed up, each office had a theme, and families visited after hours (generally 5:30-8).  There was food, there was fun, and there were a whopping six kiddos the first year (2014) that we did it.  Not exactly a break-down-the-door success, but we held out a "if we build it, they will come" attitude, and indeed they did!  The next year we were bursting at the seams.  This has morphed into our Autumn Fest, which boasts big slides, bouncy houses, pumpkin painting, crafts, face painting, a demonstration by the Bristol County Sheriff's Dept K-9 Unit, and food for all.  This event is hosted during the latter half of October, but planning and organization begins as soon as September hits.  What events will we have?  What games?  Who will get the pumpkin donation?  Who will request pizzas?  Who will make check requests to pay the vendors for their services?  Should there be a press release?  Is the Sheriff's Dept definitely in?  Did anyone contact the Berkley Fire Department to host a Touch a Truck event?  Do we need more condiments for the hotdogs?  Who is picking up table cloths and napkins?  Are the porta-potties secured?  How many?  Organized chaos.
The day arrived.  The weather was more beautiful that we could have imagined (as I sit here and reminisce, we are in the midst of a blizzard that is burying the Northeast…Ah, memories).  Staff arrived at nine-thirty, set up beginning right away.  We carved pumpkins on the conference room table to prep for a gourd-toss game.  Homefinders arranged info packets for potential foster parents.  Tables and chairs were set up.  And then, they arrived. 
Often, people assume our kids will be difficult.  The unfortunate stereotypes associated with foster kids abound and we've fielded some painful questions.  Yet, the day of, all we saw were happy faces.  We say kids who were having a great time, throwing gourds in Jack-O-Lanterns, getting butterflies, fairies, and superheroes painted on their smiling cheeks, bouncing and flipping and tumbling on giant enclosed trampolines.  We saw KIDS, no adjectives needed.  We saw parents of all varieties looking after their littles, ushering them from station to station, laughing with them, climbing and jumping with them, creating beautiful memories along side them.  Some sat on the basketball court to picnic and refresh for a moment. Some ran from place to place, energized and excited.  All we saw were families, people who care about one another.  It was four hours of lovely moments.
So, no, blogging wasn't at the top of the list in October, nor should it have been.  Creating memories and recognizing that our kids are kids was exactly where it should be.  First and foremost, at the very top of the list.
What did you miss in later October, November, and December?  Stay tuned, lovelies.  Stay tuned…
If you'd like to give a child joyful memories, please contact us today.