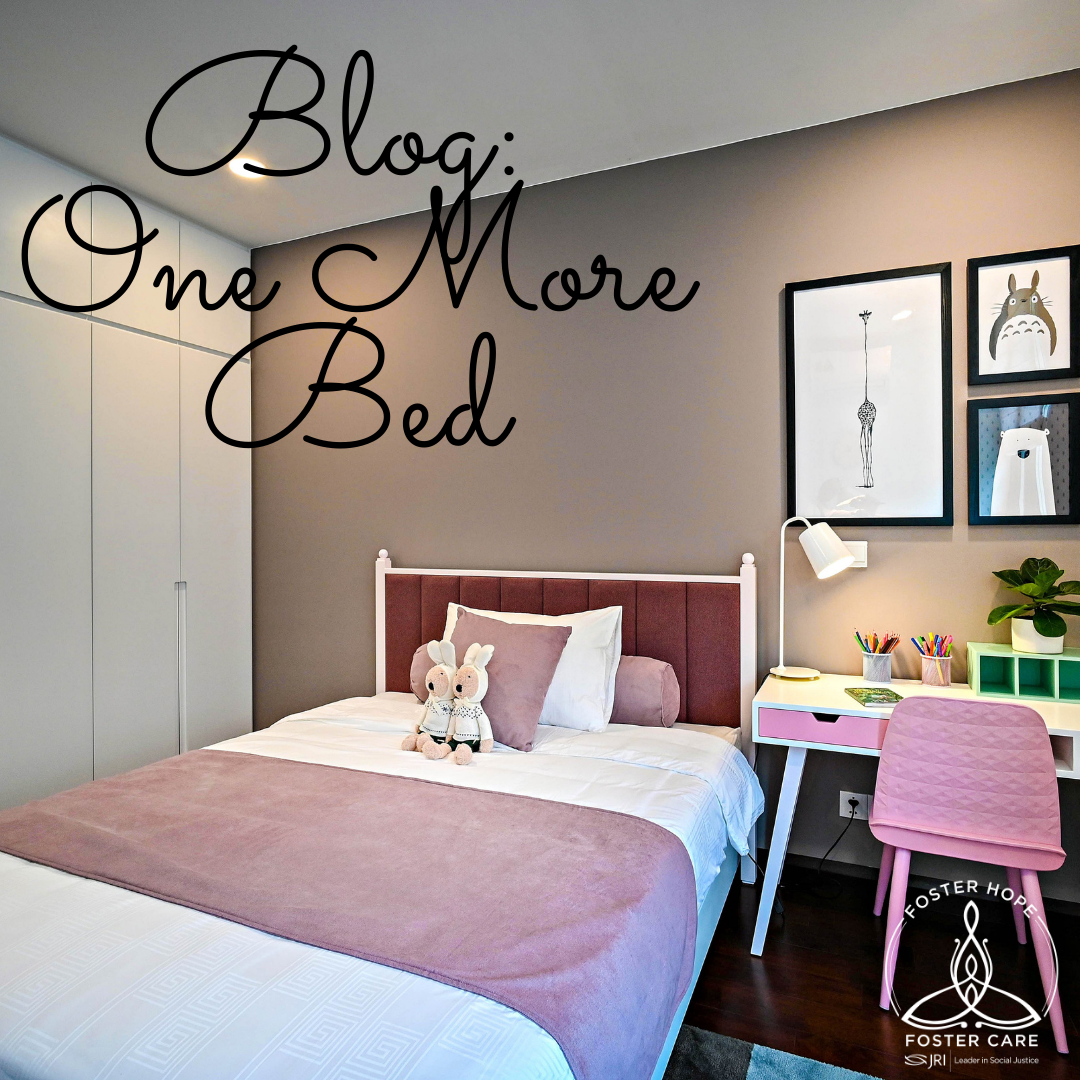 What if there was one more bed?
One more bed for a 14 year old would mean that Kayla could step down from a group care program where she's completed her service plan.  She has skills to manage her anxiety and a care team to support her.  She could live with a family while her biological family regains its footing.  She could feel a bit more like a regular kid.
One more bed for a 9 year old would mean Jayden could stop bouncing from Hotline Home to Hotline Home.  For the past two weeks, he's had a different home almost every night.  One more bed would mean he could remember the color of the sheets he slept on, the name of the adult caring for him, and start to concentrate in school again, rather than wondering where he's going to end up.
One more bed for a 17 year old would mean that Zed would have someone to use their correct pronouns, to ask them about their day, to take pictures of their Homecoming date, to help them plan for college, to take them to get their driver's permit. 
One more respite bed would mean that the Jacques family can take a break for a weekend.  The pandemic has been tough.  They had to cancel their 25th anniversary vacation last year, and really hoped they'd be able to get away for a weekend, just the two of them. 
One more bed for a child diagnosed with Autism Spectrum Disorder would mean that Lavender can be in a quiet, predictable home, rather than a busy group home.  It is hard to have all that noise around, all that activity.  A home could help her use her skills and learn to connect.
One more bed for a medically fragile infant would mean that Elisabetta can be discharged from the hospital and begin to bond with someone.
One more bed for a sibling set would mean that Tylia and Tomas, six year old twins, can stay together in foster care, rather than having to be separated. 
You may think you could only provide one more bed.  To the right child, one more bed is everything.
If you've been considering opening your home to foster care, please know there is no time like now.  A child is waiting for one more bed.  Inquire today to begin your journey.
https://family.binti.com/users/signup/jri-foster